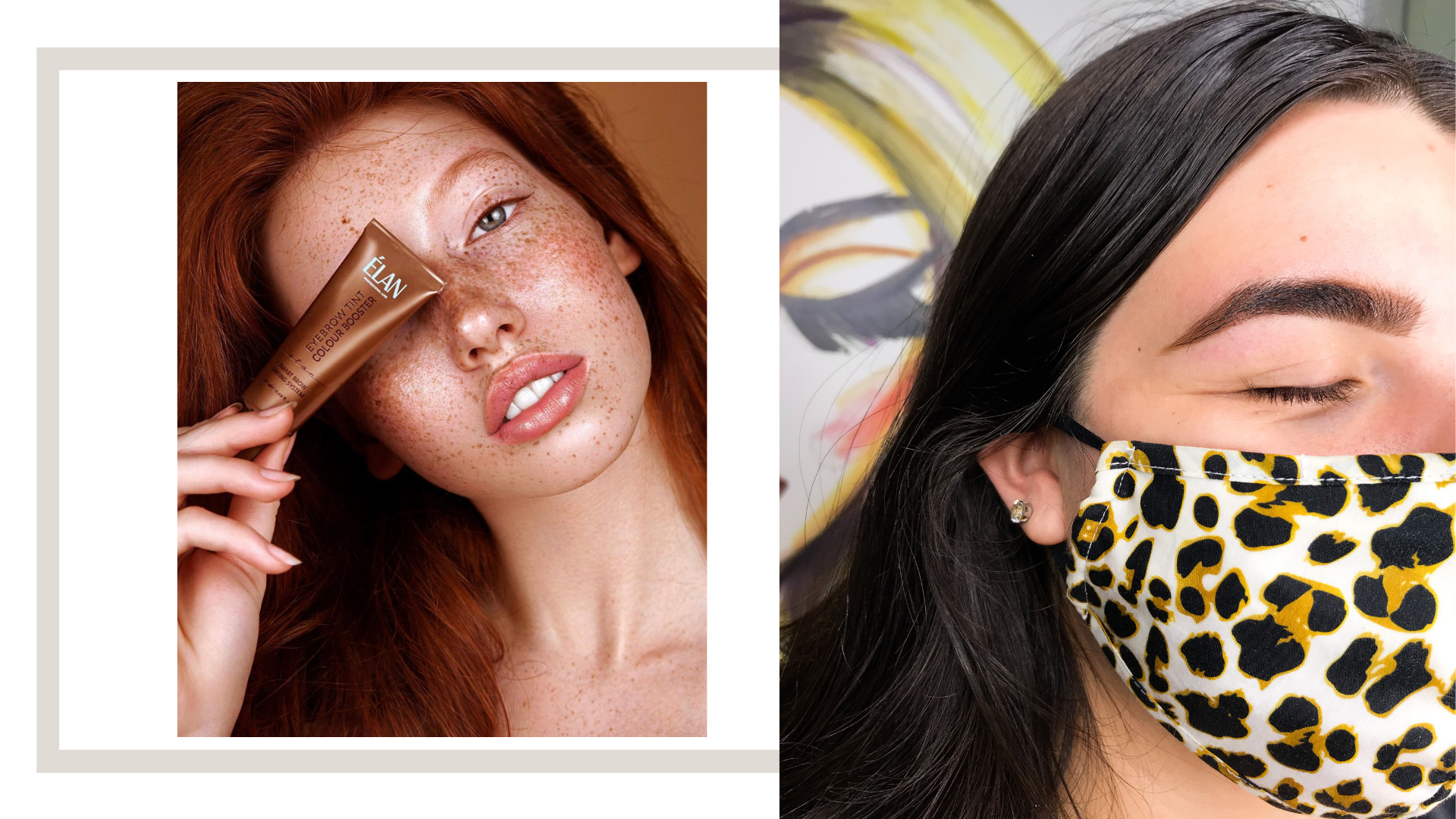 Élan Professional Line for Long-Lasting Eyebrow Tint
Meet ÉLAN Professional Line – a modern professional beauty brand from Ukraine. Behind this amazing eastern European brand are 2 sisters who have been determined to take their eyebrow game to the next level by developing unique formulas that would provide significantly improved results in comparison to any other industry standard eyebrow tint, and so was the ÉLAN Eyebrow Gel Tint and Smart Brow Tinting System born.
The Beauty House Shop is proud to be the first North American retailer of these exclusive eyebrow solutions created by ÉLAN Professional Line. 
What is Eyebrow Tinting?
Eyebrow tinting is a technique used to semi-permanently color brow hairs while also staining the skin if preferred to provide the appearance of fuller eyebrows. Tinting provides a shape and definition that will enhance your natural brows. We all know how a perfectly crafted brow makes a huge difference and tinting allows you to skip brows from your morning routine while gaining extra minutes towards your precious beauty sleep.
The Difference Between Eyebrow Tint and Henna?
The most commonly known form of coloring your eyebrows is tinting. One of the widest used brand of eyebrow tint is Refectocil which comes in a variety of base colors that are then mixed with either a liquid or cream oxidizer. Results vary from 3 – 6 weeks on the brow hair, however, do not expect the stain to last more than couple days on the skin. This type of industry standard tints were never created to last on the skin. On a positive note if the results didn't come out as expected, a tint remover can be used to address spots on the skin but if your tint turned out too dark, there is no miracle cure to fix that unfortunately. As customer were craving more longer lasting results, Henna brows were introduced to the market as a 'natural' alterative promising longer results.
Henna brows are a form of eyebrow tinting that is used to stain the skin beneath the brow hairs. The purpose of this is to cast a shadow or create an illusion of depth and fullness in the area, visually filling the sparseness. The results of henna eyebrows last up to 2 weeks on the skin and up to 6 weeks on the hair. However, you need to be very careful with henna dyes because it is a natural exfoliant that will dry the hair and skin and the harshness of the chemicals and/or overuse of the henna tints can turn into a full blown allergy or in worse case hair loss. Henna isn't all bad and can be a great option for some customer when correctly used by a professional and if you do choose to use it make sure to check the labels for Paraphenylenediamine (PPD) aka 'Black Henna' as it causes chemical burns and allergic reactions.
Henna can give longer results but can prove problematic especially as the number of skin sensitivities among clients are growing by the day. Let us introduce the next generation of eyebrow tints that deliver superior results suitable for even the most sensitive skins. ÉLAN Long-Lasting Eyebrow Tints that are nothing like you have seen before, results lasting up to 30 days on the hair and up to 14 days on the skin. It is the ultimate brow service that provides your customer a longer maintenance cycle while the results are mind blowing.
ÉLAN Eyebrow Gel Tint
The ÉLAN Eyebrow Gel Tint has a patented formula and the application technology is unique around the world. The brow gel tint provides significantly longer lasting results than other industry standard tints when it combined with the full tinting protocols. The gel tint comes in 3 different main base tones, Black, Dark Brown and Medium Brown. By utilizing the 3% Oxider and Argan Oil you are able to easily achieve all shades of the base tone by following the mixing schedule. The gel tint is perfect for both eyebrow and eyelash tinting, in case you were wondering!
To reach maximal results it is highly recommended to use before tinting the  ÉLAN Cleansing Detox-Mousse and after the  ÉLAN Colour Fix for longer color effect.
The key benefits of ÉLAN Gel Tint:
Evenly covers eyebrows and eyelashes
Long-lasting results
Versatile shades
Provides moisture to the skin
Dermatologically tested
Cruelty-free
ÉLAN Smart Brow Tinting Systems – Deep Brow Tint & Colour Booster
The ÉLAN Smart Brow Tinting System is an innovative eyebrow tinting system developed by ÉLAN being the first ever eyebrow & eyelash tint with neutral pH. Skin sensitives and allergic reactions can prevent many from enjoying the tinting experience but with this new multifunctional alkalizing agent the percentage of oxidative hair colorants can be decreased significantly, resulting in lower risk of a potential allergic reaction. This agent provides an immediate chemical reaction, acting as the oxidation process accelerator and allowing the eyebrow tint to appear instantly on the skin and the hairs. Available in 2 base tones, ICY cold brown and SPICY warm brown.
The key benefits of ÉLAN Deep Brow Tint:
Ammonia- and mea-free
Long-lasting results
pH neutral, protects from hair damage and skin dryness
Patented ingredient Heliogenol™ by SEDERMA (France) protects from fading and the hair from UV-rays
*The tint can be mixed only with the Elan Oxidizing Emulsion 3%Smart Brow Tinting System.
The ÉLAN Colour Booster are specially designed for mixing with the basic ÉLAN Gel Tint & Elan Deep Brow Tint to add more depth and intensitivity to the eyebrow or eyelas color. If you are looking to expand your selection of shades, color booster is a must have. They can also be used for correcting and eliminating undesired color nuances.
The key benefits ÉLAN Colour Booster:
Provides more color depth & intensity
Correction and elimination of undesired tones
Allows to expand the variety of shades
By learning the correct mixology you can provide fully customized services with all the shades and tones at your dispose when you combine ÉLAN Deep Brow Tint and Colour Booster and the earlier mentioned surface preparator foam called ÉLAN Cleansing Detox-Mousse and the setting spray ÉLAN Colour Fix.